Over the past several years the process for getting airspace authorizations (approval to perform drone operations in controlled airspace) has gotten easier and easier.
Except directly at airports. That has remained a fairly difficult task to get airspace authorizations, and then even more difficult to perform drone operations.
Before we dive into '0' grids, here's a quick refresher on the state of airspace authorizations today.
LAANC Network
The LAANC (Low Altitude Authorization and Notification Capability) is an automated system that allows for Part 107 (and now recreational drone operators) the ability to quickly request and get approvals to operate up to specific altitudes.
The altitudes are specified by the FAA UAS Facility Maps and vary between 0 and 400 feet in controlled airspace. These altitudes are the ceilings in which an operator can fly in with a LAANC automated authorization.
In layman's terms: the FAA has created 1 mile x 1 mile grids in all of the controlled airspace and set an altitude in which you can receive an automatic authorization thru LAANC.
Most of the controlled airspaces in the United States now utilize LAANC (here's a list of them all).
Here's an example of what the LAANC grids look like at the Boise Air Terminal (KBOI) in Idaho. You'll also notice that those grid boxes around the airport are all green. This means it's a LAANC supported airport.
You'll see more '0' grids over the runways, while higher grid ceiling heights of 200 and 400 feet more than 1 mile away.
You can easily request to fly up to to those altitudes with a LAANC provider like Airmap, Skyward, or Kittyhawk. Additionally, you can request to fly above those ceiling numbers (such as to map an area at 400 ft while in a 200 ft grid), however there will be a manual review process and it will not be automatic.
There are airports that do not support LAANC yet, and those are in red. You can see this example here at the Idaho Regional Falls airport (KIDA):
You're unable to use LAANC to get any authorization at this airspace. Most military airports do not allow for these types of automated authorizations, and require a manual process.
I've used LAANC countless times, but as you can imagine, if you want to fly above those altitude ceilings? How would you go about that?
FAA DroneZone
The FAA DroneZone was the original tool the FAA used for airspace authorization requests before LAANC was rolled out. It's still used for non LAANC airports.
It's with FAA DroneZone that you can also make specific requests to operate above these grid limits. This is how I've gotten my authorizations approved to operate at 400 ft AGL in a '0' grid (adjacent to the runway).
This article is to let you know it's possible to operate in a '0' grid legally, not necessarily provide the exact details on how to do so.
The Process For '0' Grid Authorization
The overall process took around 30 days from my first application to when I was approved to operate.
A recent client owns a lot of land adjacent to a Class D airspace here on Oahu (Hawaii) and needed updated imagery maps. It just so happens that these areas are on or near approach paths for the airspace.
These areas are also large (80-150 acres) with vegetation, so it would be very difficult to map at lower altitudes (the lower the altitude, the more flights it would require).
I determined that operating at 400 ft AGL for the mapping missions was optimial for the imagery, as well as reducing the overall amount of time in the air.
The lower altitude you map at, the higher resolution the imagery, but the longer it would take. Even mapping the same project area at 300 ft instead of 400 ft could be the difference of 6 flights (each at 20 min).
It's much easier to communicate with ATC (air traffic control) that you only have two 20 min flights, instead of eight.
So with the project areas defined, and the desired flight altitudes set, it was time to request for the authorization via FAA DroneZone.
The airport in question was not LAANC approved, so I had to apply via the FAA DroneZone regardless of what altitude I was requesting for.
'I did speak with the FAA recently at a conference and their representative suggested for all '0' grid operations, to apply via the FAA DroneZone (even at LAANC authorized airports).
In my description of the operation, I specified the altitude, coordinates, and approximate duration of the operation. Additionally I included specifics about boundaries of the project area.
With FAA DroneZone submittals, it first goes to the regional FAA representative to review and then submit on to the local ATC of that airspace.
Surprisingly, the local ATC called me to have me come in and explain in more details what the operation entailed. Once I did that and we worked out a plan together, they approved the authorization request.
2 weeks later I was flying at 400 ft adjacent to one of their runways performing a mapping mission. By adjacent literally alongside.
Since then, I've performed 5 other operations at 400 ft AGL, all near the airport (and all within the 0 grid).
Each day I perform operations, I call the tower 30 minutes before hand, and again 5 minutes before each operation. I communicate with the tower with a two way radio and am listening to all the air traffic communicate over the CTAF frequency.
It's exhilarating, but ultimately just a part of the job.
Lessons learned
Almost all airspace is flyable - you just need time and patience when applying for airspace authorizations
Having "pre-authorizations" for certain airports and airspaces make a huge difference when approaching new clients. Being able to fly the operation the next week is a much easier sell than tell the client 90 days from now.
Study the airspace around you and know it down pat
In September 2017, one of general contractor clients who I'd worked with closely in the past, had a project in the initial setup phase.
In this article I'm going to dive a little deep on some of the more technical aspects of what I was planning to deliver to the client, then talk a bit more about different challenges I faced.
They needed a highly accurate topographic map of the job site to begin planning their construction. This meant using ground control points (GCPs).

What are GCPs? Think of them as marked points on the ground that have a well known geographic location.
Typically, a professional surveyor will capture the coordinates of these marked points, however technology is advancing and there is now the ability for mobile GCPs like AeroPoints.

Why are GCPs used to make topographic maps more accurate?
Here's the basics: when creating 3D topographic maps using photogrammetry, you can create maps with high relative accuracy. Using GCPs allows you to create maps with high absolute accuracy.
Relative accuracy = points in relation to each other
Absolute accuracy = points in relation to the real world elevation
Without the use of GCPs, you just have an accurate map relative to itself, floating in space. Using GCPs, you are able to bring that map to have high level of absolute accuracy (think about pulling that map down from floating in space, to the surface of actual terrain you are mapping).
Our plan for this jobsite was to have the general contractor provide the coordinates of 10 GCPs. I would then include these coordinates when creating the final 3D topographic point cloud using photogrammetry.
Additionally, after analyzing the airspace, I identified that the jobsite was within Class B Airspace, and was within an FAA grid map of 100 ft AGL.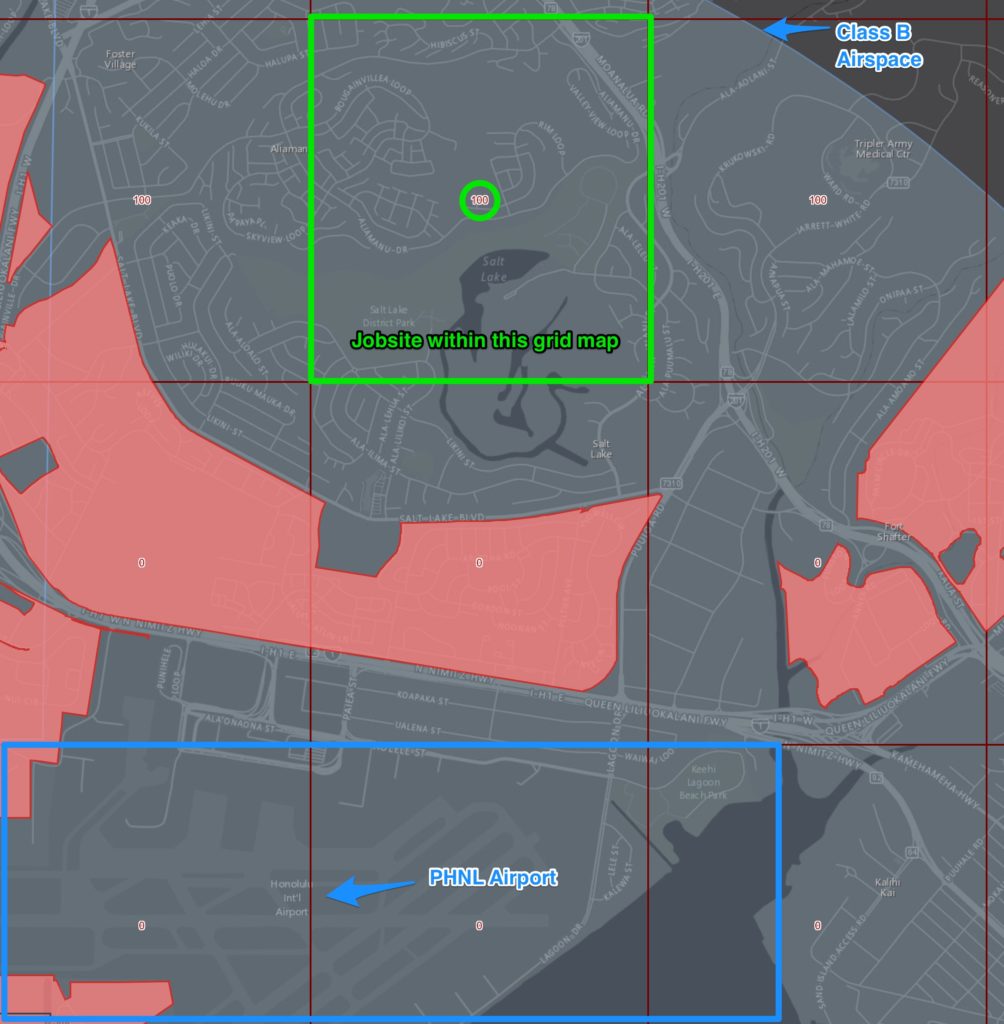 Instantly I realized that:
I would need Class B Airspace Authorization

If I keep the operation below 100 ft AGL, there was a good chance the authorization would be issued faster
I had not applied for an authorization in Class B airspace before, so I had no idea how long it would take. Because I would be flying at or below 100 ft AGL, I called air traffic control to determine if I could get verbal authorization, or if I still need to make the request thru the FAA website.
Answer: I needed to apply online via the FAA website. This could take 90 days for getting the authorization, which would potentially delay the operation 3 months.
All this information in hand, I proposed a bid to the client. It totaled $1,100 for 2 hours of on-site work. It also included the cost for processing the 3D point clouds, acquiring the Class B airspace, and having an additional visual observer on-site.
Several days later, I spoke with the client and we discussed the bid. The price was not an issue, however the timing was. They needed this done in the next week, not 3 months from then.
The client agreed that performing the operation legally was of upmost importance, so they decided to stick with traditional methods (boots on the ground and surveying equipment) to complete the job.
And there lies my $1,100 mistake.
If I had been pre-authorized for this Class B airspace, I would have been able to legally complete the job.
Almost immediately after realizing this, I applied for authorizations in ALL airspaces on my island. For you this may mean applying for authorizations for all airspaces within a 60 minute drive.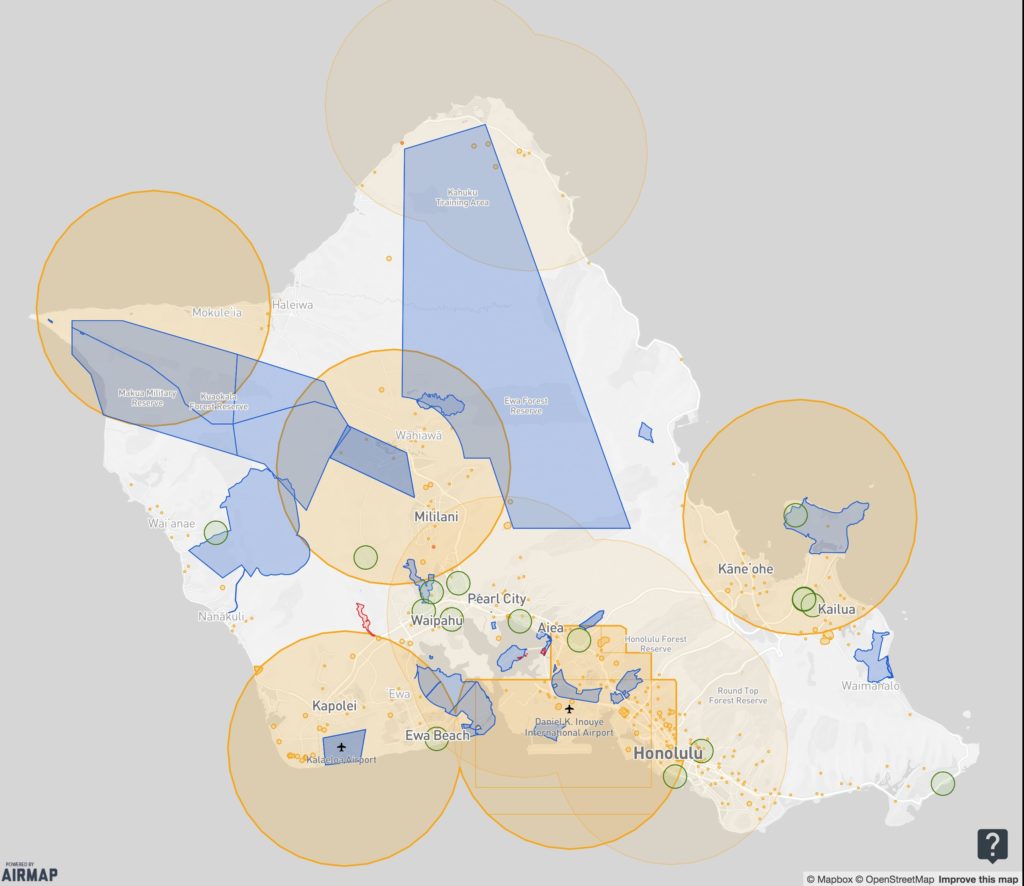 Having these pre-authorizations is a huge differentiating factor for your own operations and potential competitors.
Lessons Learned:
Get pre-authorization to operate within airspaces where you will be performing commercial operations

There's so many different opportunities out there for FAA-Certified Drone Pilots. Just get started and you'll learn along the way.
In November 2017, I was connected to the owner of a local roofing company focusing on residential and commercial work.
I am always putting myself out there and introducing people to myself and my drone service business.
What I've learned in the past year is that our job as commercial drone operators is 80% education for clients as to how drones can potentially be used within their businesses. In this case, we identified an area that is highly time intensive for their roofing estimators.
Here's an example to better illustrate this scenario:
Homeowner has a leak in their roof or notices damaged shingles/tiles

Homeowner contacts their insurance agent who involves a claims adjuster

Claims adjuster has roofing company send an estimator to inspect the roof, identifying damage and taking measurements

Claims adjuster verifies measurements and findings from roofing estimator

Claim is approved or disapproved for homeowner

Roofing company may get contract to repair/replace work
There's a part of this entire process that causes a big hold up: when the roofing company sends their estimator on site.
They have to climb to the top of the roof and walk it, taking photos and measurements. Then wait several days for claims adjuster to do the same.
This sounds highly inefficient, right?
Agreed.
So that's where drones come into the picture.
What if an FAA-Certified Drone Pilot can come on-site, fly their drone and take specific aerial photos, and later have a software that identifies all the required deliverables in a report that both the roofing company and claims adjuster agree upon?
Sounds like using a drone will save time, money, and is safer (no one has to climb 3 story roofs anymore).

That's where I come in.
This local roofing company hired me to test a new roofing report software on three of their client's roofs.
Setup:
The roofing estimator contacted me and sent me addresses of potential job sites to inspect, and I checked the airspace around each. We decided on two in the same neighborhood, and another on another part of the island, all in Class G airspace.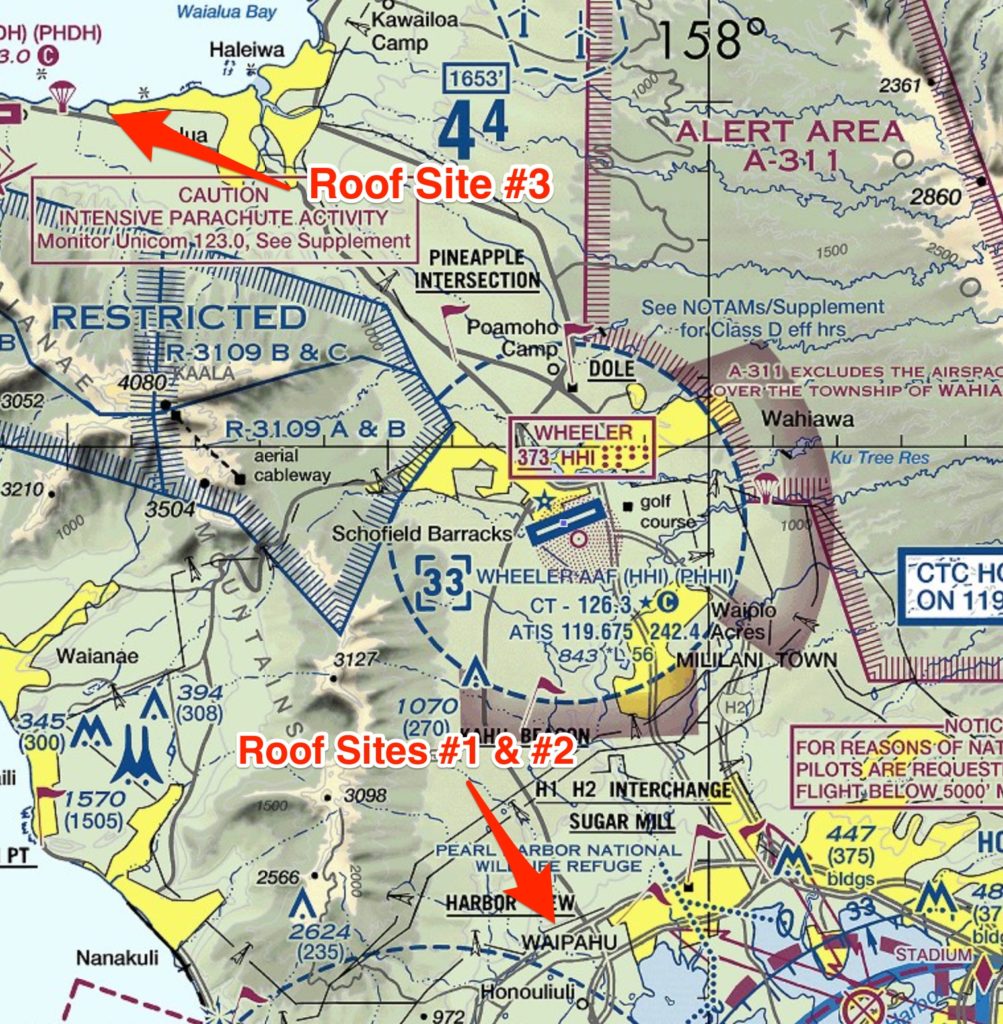 We scheduled the time and day, and I ensured the drone I was using (Phantom 4) was full charged, had current firmware, and passed my own visual inspection.
On the morning of my operations, I checked the weather, visibility, and if there were any Temporary Flight Restrictions in the area. SkyVector is a great resource for this.
NOTE: It just so happens that Air Force One was stopping off at PHNL airport in Honolulu two days later, which enacted a 30 mile no fly radius. Luckily, this did not interfere with the operation.
Upon arriving on-site, I performed my pre-flight checklist, which involves walking around the site among other things.
One big note for each job - I try to convey a level of professionalism, which means I'm wearing steel toed boots, pants, a collared shirt, and a fluorescent safety vest.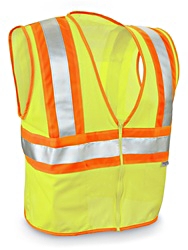 The aerial photos that the software required were a mix of orbits, close-ups, and a zig-zag pattern of vertical images (think a lawnmower pattern).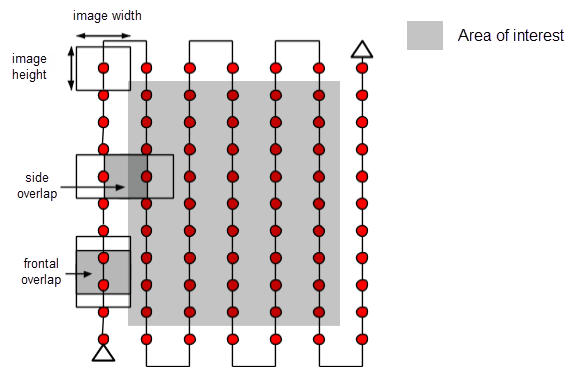 Picture from Pix4D
Delivery:
Successful delivery of the images just required access to a Dropbox account and uploading all images.
With 24 hours, the software company had generated special reports for each job site, highlighting damaged areas that required repairs, as well as measurements and surface area of the roofs.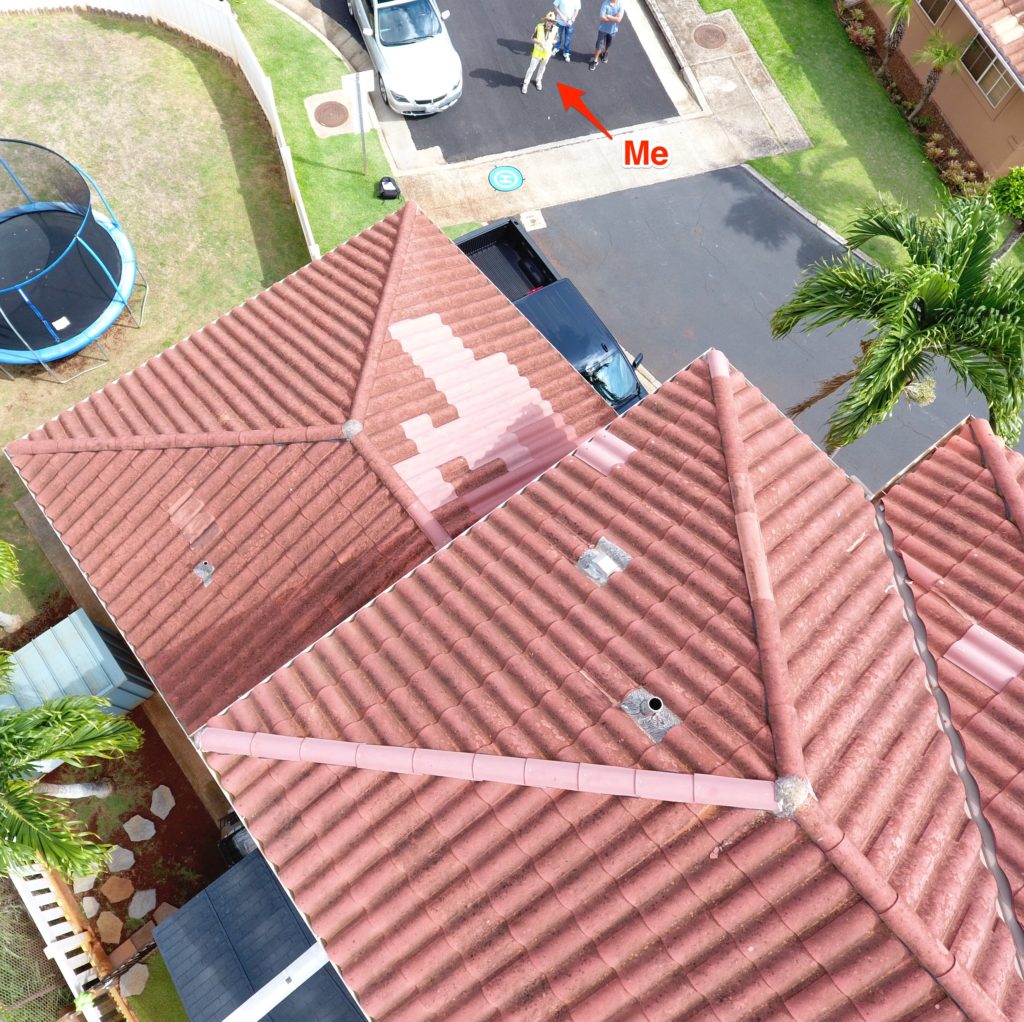 Simple.
For these flights, I earned $150 per site. Each site required about 1 battery (25-28 min of flight time). In total including driving, a four hour afternoon of work earned me $450.
Not too bad!
Unfortunately due to NDA agreements, I'm unable to disclose the specific software company were testing. However, there are some great options when you search for "drone roofing inspection software" 🙂
Lessons Learned:
There are so many different types of opportunities utilizing aerial technology. This roofing company wanted an experienced drone operator to not only fly and capture images, but to test a new software. Eventually, this may lead to an opportunity to help setup an internal drone operation for the roofing company (think consulting).
I had no idea that a lot of roofing companies work was generated from claims adjusters and the relationship they have. Just goes to show you the importance of diving deep into industries and understanding all the inefficient existing processes that drones can replace.
Earning a great side income with drones if very do-able.
---
If you're just getting started out and are looking to learn how you can start your own drone business, checkout our free webclass: Drone Business Webinar.
This is the story of my first commercial drone job in December 2016, after I had become an FAA-Certified Drone Pilot.
I'm sharing this with you to show you that getting that first client is well within your reach, and not as daunting as it may appear.
So what was this first gig?
To take four photos: one each of four separate solar panel arrays (600+ panels in total). Two of the solar panel arrays were located on separate 7-story apartments, while the other two were located on newly constructed carports.
These photos were to be used to prove to the electric utility that the correct number of panels were installed. This was part of the commissioning process, and had an urgent deadline (ASAP), because any delay with the photos could delay the customer from receiving energy credits.
I got a call one morning from a friend of a friend - someone within my own personal network that worked as an Engineer for a solar company. I had been very vocal within my own network that I held my Remote Pilot Certificate with sUAS Rating, posting on Facebook, LinkedIn and letting everyone know in person.
On this call, he asked if I could capture aerial photos of each of the solar arrays at a particular address. I also asked when he needed the photos delivered by (answer: the next day). With him on the phone, I looked up the address, and compared it to the sectional chart for that area to check the airspace.
The address was in uncontrolled Class G airspace, so we were in business!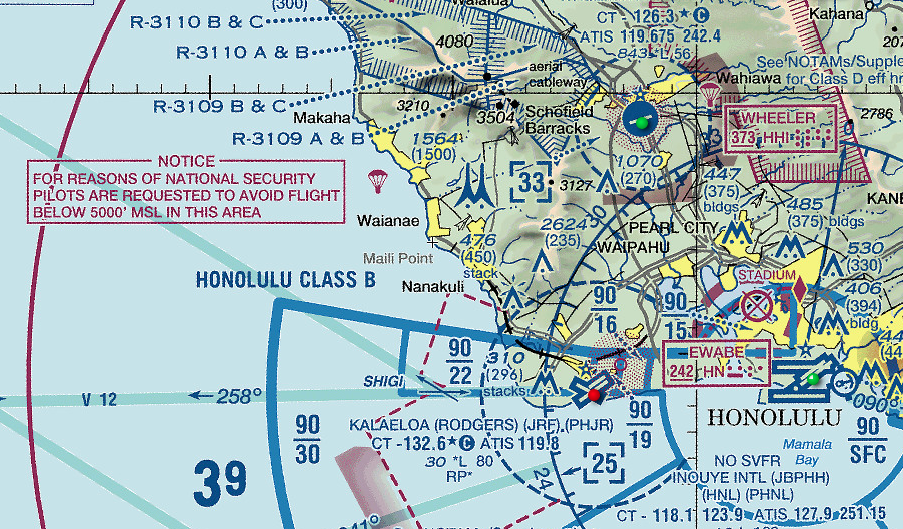 He also asked how much it would cost. I blanked at first…no one had ever asked me that.
I figured it would take about 3 hours total with driving, setup, and the operation so I quoted him 3 hours at $40 hour for a total of $120 (plus our state excise tax).
He agreed, and the plan was for me to take the photos the next day at 11am.
That afternoon, I made sure my Phantom 3 Advanced had the most current firmware, memory card wiped clean, and charged all batteries.
The next morning, I gave myself plenty of time to get to the site early.
Once on site, I called the Engineer and he explained everything had been cleared with the property manager, and that I needed to just introduce myself to the on-site security guard.
Simple.
I walked the job site, looking for any hazards that didn't show up on my research in Google Earth.
With no unidentified hazards, I purchased a Verifly $1.0 million insurance policy for 1 hour with a 1/4 mile radius for $15 and ran through my pre-flight checklist.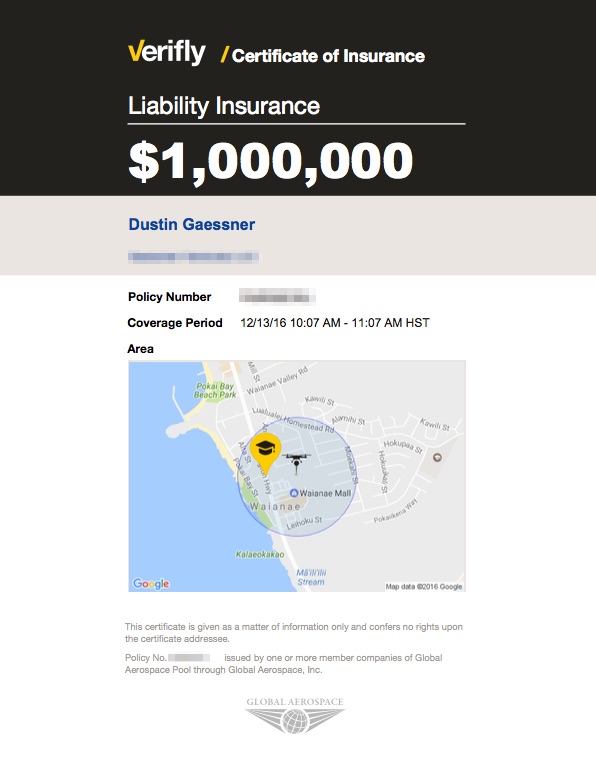 I flew my drone and captured the 4 images required, then I took several videos and additional photos to create a 3D model of the site.
Always overdeliver!
Upon landing the drone, I verified the capture of the required images. They looked great!
My job was completed on-site, so I gave the Engineer a call to let him know everything was wrapped up, and that I would send over the deliverables via Dropbox later that afternoon.
Overall, I was on site for 1 battery, or about 30 minutes including the site walk-through.
Once home, I sent over the images and processed the 3D Model in DroneDeploy.
I got the go ahead to sent the invoice over, then it was just time to wait for the check.
In total, it took less than 24 hours to receive my first job, plan it, fly it, then deliver.
$120 for roughly 3 hours of work was not too bad for my first job!
Biggest Lessons:
Reach out to your network about doing commercial drone work! You never know what a simple message or conversation could do for your business.
The unknown is scary - I didn't know what to charge. I didn't know what the mission would be like once I was on-site. This unknown is challenging, but when you use fear as your compass, it can point you in the right direction and of the next action to do. Just take action!
Over deliver for the client. They can refer you to other clients, or continue to give you work. It's also great to capture more than enough photos and videos to use in your own portfolio.
"Of course we can do the operation...we just can't do it for 3 months," I said to the client.
He looked at me bewildered.
I continued, "This is Class D airspace. To legally perform this operation, I need to apply for an airspace authorization. It can take up to 90 days for the FAA to approve requests like this."
I'll get started on it right away."
This was a real conversation I had with a client several months ago to perform aerial photography over a sandbar on the island of Oahu.
This article will go over the step-by-step process I went thru to get my Class D Airspace Authorization for operations on May 1, 2017.
Introduction to Airspace Authorizations
An airspace authorization is required for permission to fly within controlled airspace (Class B, Class C, Class D, and surface level Class E). Airspace authorization is only available to Part 107 certified pilots.
If you're not certified yet, check out the Remote Pilot Test Bank for a full study plan and 300+ practice questions.
In the past (before Part 107 Rules were implemented), an operator just needed to contact the air traffic controller prior to flights.
However with the implementation of Part 107, all requests for permission in controlled airspace is required to be completed thru the FAA's Online Portal.
The FAA asks for 90 days from application date to proposed operation date, to review the request and apply any conditions or criteria.
Airspace Authorization vs. Waiver
When applying for operation in controlled airspace (107.41 Operation in certain airspace), you'll notice there are two types:
Airspace Authorization
Waiver
Waivers are requests to fly outside the standard operating rules that Part 107 dictates. Typically this is for things like operations at night, operations over people, and beyond visual line of site (BVLOS).
A waiver for "107.41 Operation in certain airspace" is a request to be exempted from needing permission to fly in controlled airspace. These requests are getting approved very rarely.
In this case, the desired operation has a defined date (May 1, 2017) within Class D airspace, so I applied for an Airspace Authorization.
Tools Required
Step 1: Plan Your Operation
This is the most important step.
Ask yourself these questions:
What are the coordinates of this operation?
How far from this coordinate might the operation be performed?
What is the max elevation required for this operation?
Be conservative with your estimates, but identify the minimum values needed for this operation.
To find the coordinates of this operation, pull up Google Maps Satellite view.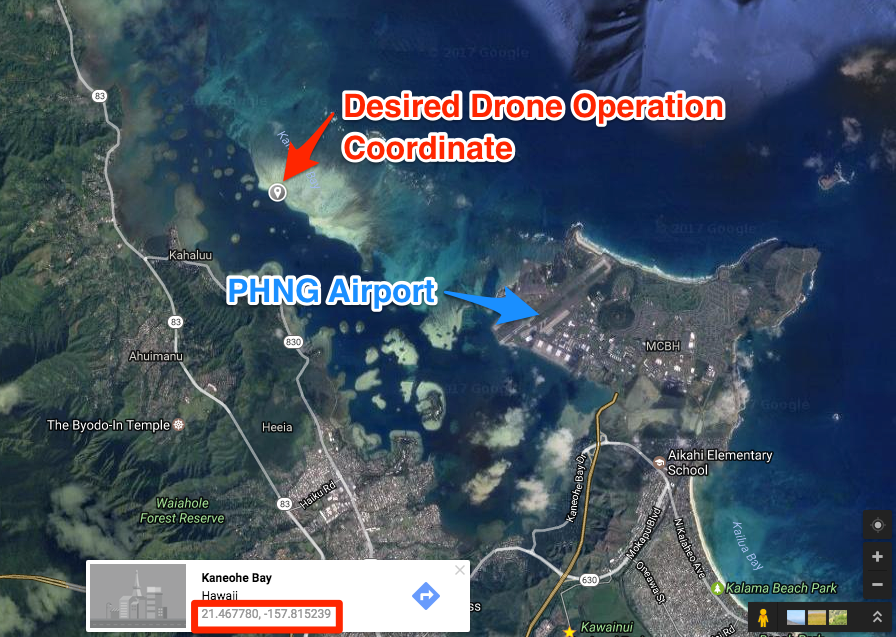 Now convert these decimal coordinates to degrees minutes and seconds. The easiest way to do that is with this website.
21.467780 degrees latitude = 21° 28' 4.008" N latitude
-157.815239 degrees longitude = 157° 48' 54.8598" W longitude
Now, using these decimal coordinates, scroll around in SkyVector moving the center of the map "+" until you align the GPS coordinates from your desired operation (N21° 28' 4" W157° 48' 54")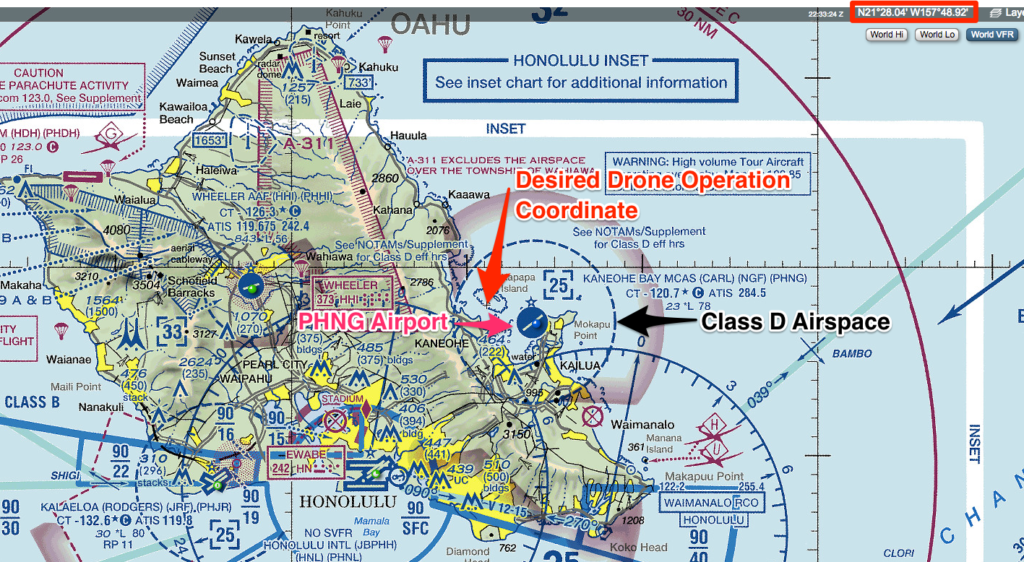 We see here that it is within Class D airspace.
Please note: By checking the Chart Supplement, we can find the effective hours for this Class D airspace.
In this case, on the desired operational day (Monday May 1, 2017), the airspace is Class D.
Step 2: Fill Out the FAA Airspace Authorization Request Form
There are detailed instructions from the FAA on how to fill out a waiver/airspace authorization request.
To fill out your airspace authorization request, start at the online form on the FAA website.
Below is a screenshot of my exact request for Class D airspace:
Step 3: Wait
Unfortunately, everything is reviewed manually by the FAA. Prior to April 2017, most operators submitting for waivers/airspace authorizations did not even receive confirmation that their request was submitted.
This has changed as of April 2017, where the FAA is including reference codes when each submittal occurs.
I submitted this Class D Airspace Authorization on January 28, 2017, and received notice on March 31, 2017.
Note how I requested a date of operation (May 1, 2017) over 90 days in advance. It is essential right now to give the proper notification to the FAA for them to approve it.
Step 4: Receive Airspace Authorization
I received my authorization in a PDF via email on March 31, 2017.
It included details on about who to contact and how far in advance (24 hours, 30 minutes prior to flight, and immediately upon completion of sUAS flight operation).
There are also details for Emergency/Contingency Procedures, such as lost link or lost communication with the sUAS.
Take a look at my full airspace authorization approval PDF here.
Apply for your own Airspace Authorization!
I hope this walk-through was extremely helpful on how I successfully applied for and received airspace authorization for operation with a Class D airspace.
Please let me know if you have any questions or want to see other specific waiver/airspace authorization request walk-throughs.
Last week the FAA announced their Aerospace Forecasts for 2017-2037, which includes update forecasts for Unmanned Aircraft Systems.
You can read the full set of forecasts as a PDF here.
This blog post is a recap of the most important data for commercial drone operators. All data is current as of April 2017.
Part 107 Remote Pilot Certificate
In June 2016, the FAA issued the small Unmanned Aerial System (sUAS) Rule (14 CFR Part 107) which took effect August 29, 2016.
This rule set provided a regulatory structure for the routine operation of small UAS for commercial purposes.
Based on trends and expert opinions, the FAA forecasts that the amount of Remote Pilots (those with the Remote Pilot Certificate with sUAS Rating) will likely grow to 420,000 by 2021.
This compares to 29,000 Remote Pilot Certificates that have been issued as of December 2016. This means there is huge projected growth in the volume of commercially certified pilots over the next 4 years.
As of February 2017, over 90% of individuals who took the remote pilot knowledge test had passed. This pass rate is only slightly higher than the private pilot test (~87%).
What does this mean for those thinking about becoming a Remote Pilot? Plan to take and pass the test ASAP!
Right now, there is barely any competition for commercial jobs. But within the next four years, the amount of certified operators will likely increase 10x fold!
Present Uses of Commercial sUAS
We see with this data the vast majority of sUAS uses are for aerial photography and real estate.
This gives a fair assessment of where most drone operators have been focused on with their businesses, and where the opportunities for growth are.
Top 5 Waiver Requests
There are many operating restrictions under Part 107, however, waivers can be applied for and requested.
Below is the breakdown for the top 5 waiver requests received by the FAA. The percentage of the chart exceeds 100% because of multiple requests at the same time.
We see here that the highest requested waiver is for night operations. Looking on the waivers that have been issued, we see that no waivers for Operations Over People have been granted yet (as of April 2017).
Note: this list only includes waiver requests, and does not include requests for fly within controlled airspace (such as Class B, Class C, Class D, or Class E from the surface).
Airspace Waiver/Authorizations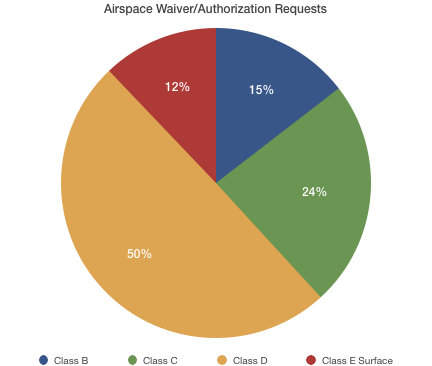 This data shows the breakdown of 6,835 airspace waiver/authorization requests. There is no data depicting the "issue rate" or "denial rate" of these requests.
The vast majority of requests (3,397 of 6,835) are for operations within Class D airspace (i.e. smaller airports with control towers).
What Does This Mean For Your Commercial Operations?
The FAA is slowly approving waiver requests, so you can start planning to do operations that require a special authorization. Currently there is a 90 day window from request to authorization.
To apply for a waiver, you must do so on the FAA website: https://www.faa.gov/uas/request_waiver/
The process is fairly straightforward.
I recently received an authorization for operating in a Class D airspace, which I'll be going over a step-by-step in a future post.
What I learned was how specific you need to be with everything - from the time window of the operations, to the GPS coordinate, to the altitude.
I predict in the future the FAA will streamline the waiver request process to be near instant (not 3 months), but we'll see on that!
"Tomorrow? You want me to take photos of the solar array tomorrow?" I exclaimed. "Give me some time to do a little research and I'll call you right back."
I had just received my first call with a prospective client for a commercial drone job. What through me for a loop was that they needed the operation done ASAP, which in this case meant the next day.
I quickly checked the two most important aspects of the operation:
Did I need any airspace authorization?

Could I get insurance...and how much would it cost me?
Within 5 minutes I called the client with a bid for the job. Those two questions were simple: it was Class G airspace so no authorization required, and the insurance would only cost $15 for one hour.
Introducing Verifly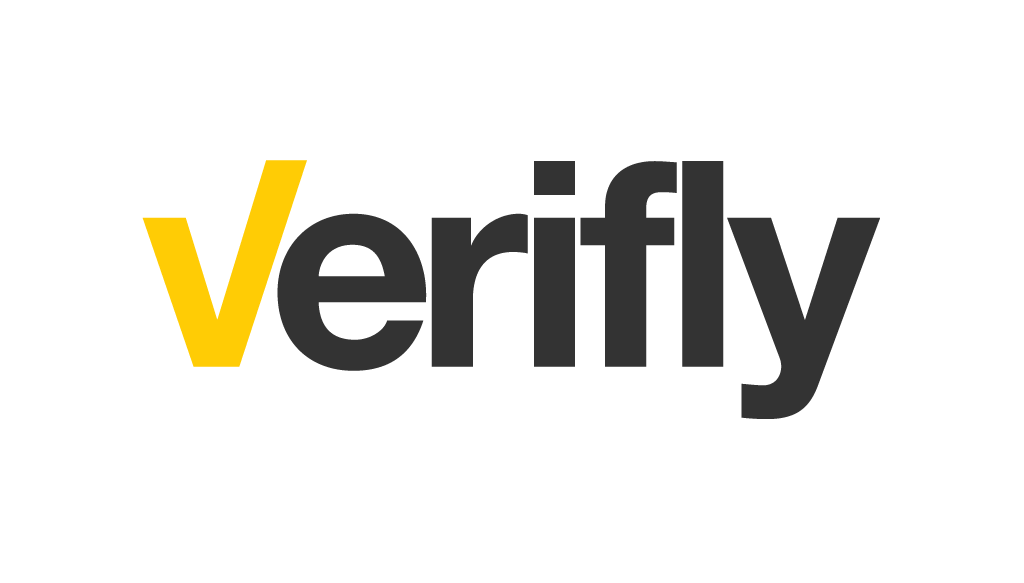 Verifly is an on-demand service providing drone insurance that launched in August 2016, by two seasoned Entrepreneurs (CEO Jay Bregman and CTO Eugene Hertz).
I first learned about it in October of 2016, and downloaded the app with the idea that I could get insurance for any commercial job I may get in the future.
As a newly certified Remote Pilot (I passed the Remote Pilot Knowledge Test in September of 2016), I had slowly begun piecing together the parts of a new drone services business.
This included figuring out how to get drone insurance for commercial jobs. And this is where Verifly comes into the equation.
Features & Benefits
For startup drone operators, Verifly is a no-brainer. Hands down, it's one of the most effective tools when starting your drone business.
There are some really big advantages to using Verifly vs traditional "annual insurance" policies.
Speed
This is truly on-demand insurance, where you can pull up the app, and purchase a policy with 5 minutes after filling in your information

The process for traditional "annual insurance" is lengthy, and to be blunt - quite frustrating as most carriers don't have a streamlined application process
Cost
There are plans for $1.0 million in liability insurance for 1 hour for $10

As a drone operator with a new business, keeping overhead costs low is essential. Purchasing insurance thru

Verifly

on a per "job" basis keeps everything affordable as you start building the business
Ease of use
Simple way to add insurance as a "line item" on a quote for drone services rendered to a client

Can pull it up on an app within 5 minutes, on the job site

Email the client a copy of the full policy when purchased
Multiple coverage options
Liability insurance limits of $1.0 million or $2.5 million

1/4 or 1/2 mile area

1, 4 or 8 hour coverage durations
Multiple drones
All your drones are covered under a single insurance plan, just as long as only one is flying time

Traditional "annual insurance" has additional costs for each drone you add to the policy
Who it's for
Commercial drone operators

Recreational drone operators
How it works
Step 1: Determine the location for coverage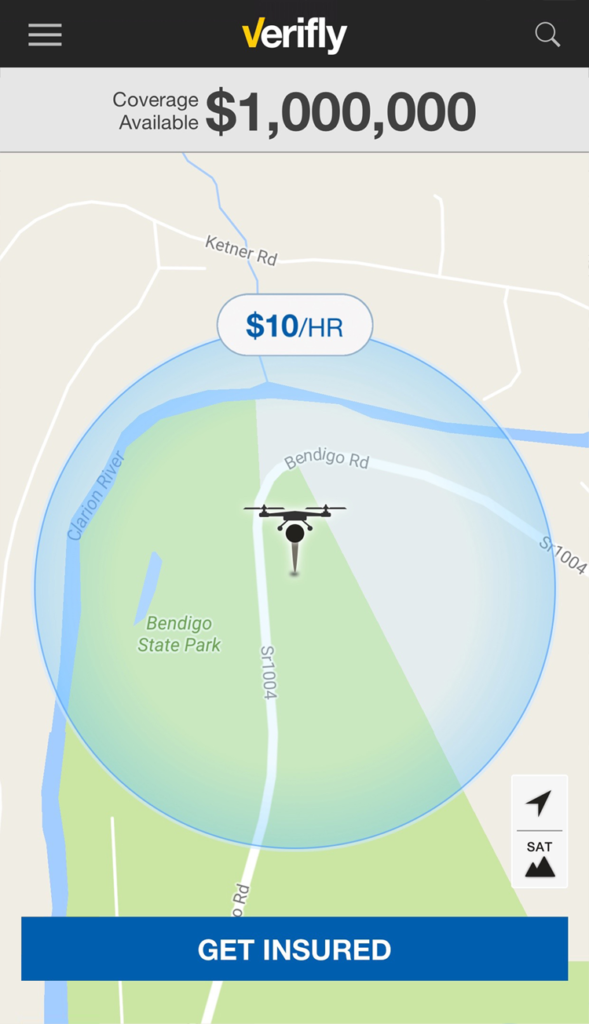 Step 2: Set coverage limits and duration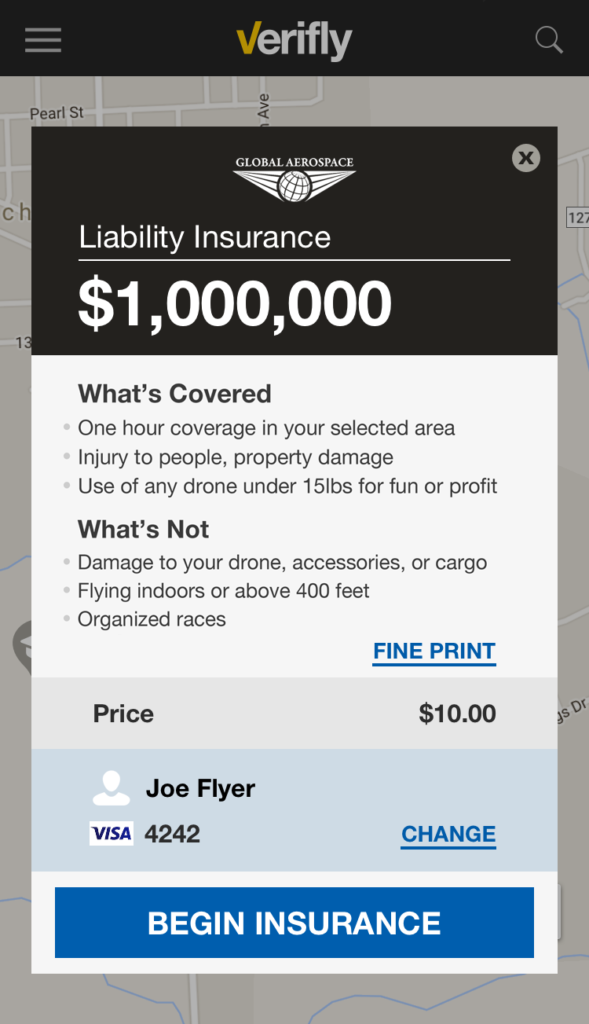 Step 3: Purchase Coverage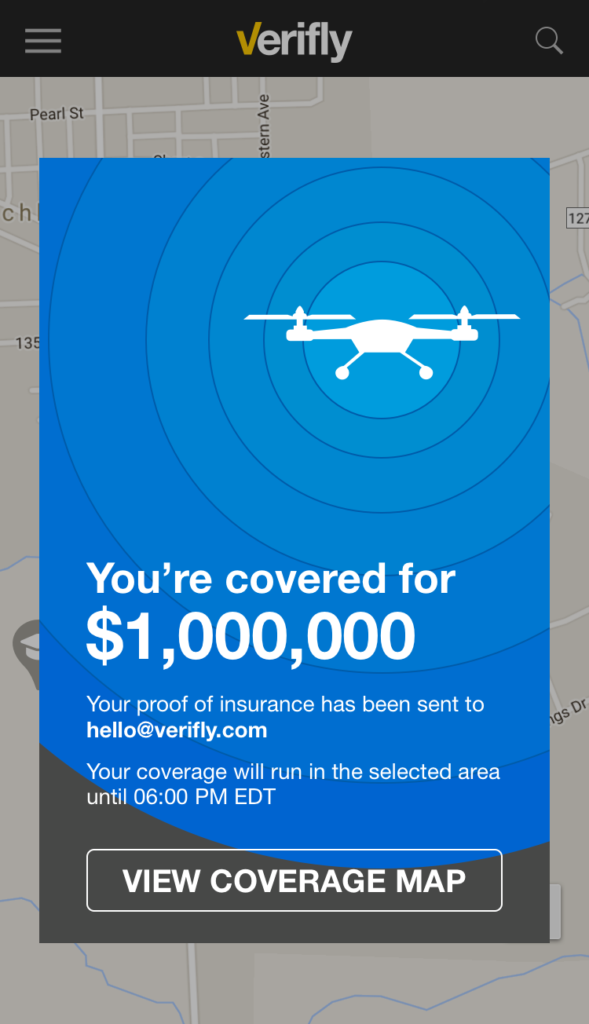 Step 4: Email Insurance Policy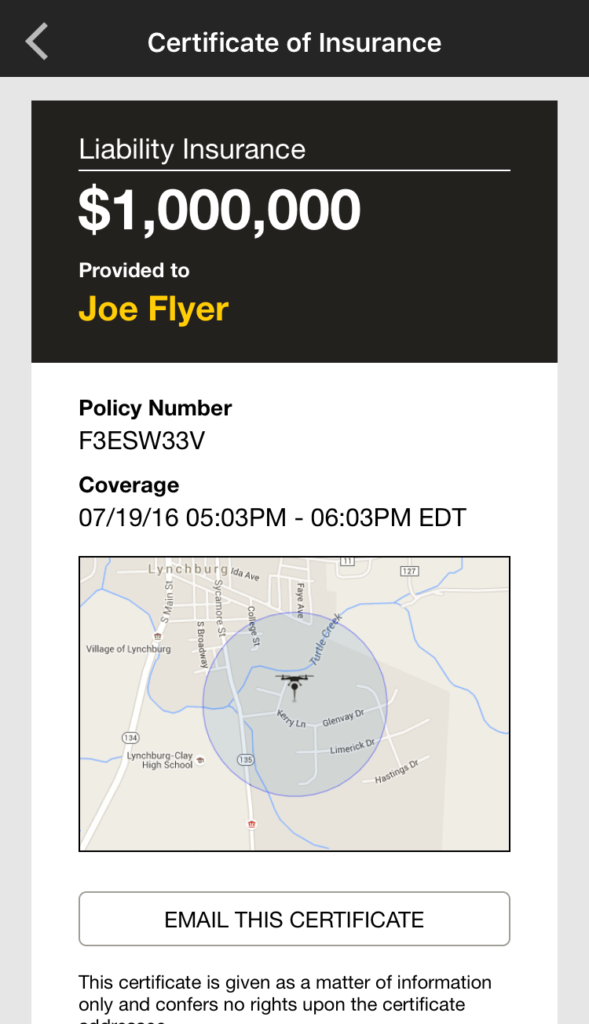 Simple.
Conclusion
Jay Bregman says that Verifly can "save you money and hassle, no matter where you are in the spectrum" of drone operators.
Verifly is available in 48 states, and delivers on Jay's message.
Whether you are a new commercial drone operator, or a recreational operator - Verifly is a great and easy way to get insurance coverage.
Next Steps
Download app for iOS or Android devices here.

"Well, you should start with what you know." said Mike Winn, the CEO of Drone Deploy.
It hit me like a ton of bricks.
Of course. It's extremely simple and makes so much sense. A bit more on that later.
We had been standing in line to grab barbecue ribs at the 1st annual Drone Deploy Conference.
What is Drone Deploy?
If you haven't heard about Drone Deploy, they're a software startup based out of San Francisco that has software to fly your drone, collect collect images, then generate orthomosaics, 3D models, and terrain models.
November 3rd, 2016 was a user conference in their office, with speakers in a variety of industries (agriculture, surveying, construction, and service providers).
There were over 80 in attendance, not including the 20+ Drone Deploy employees helping and leading the event.
Industry Breakout Deep Dives
If you're reading this, you're most likely a "service provider". That means you don't have any particular experience in one of the big industries that are currently using drones:
construction
agriculture
surveying
These industries have already been using drones to replace expensive, time-consuming, or unsafe manned operations.
In particular, the construction and agriculture industries are highlighted to be responsible for over $23 billion in market opportunities over the next 4 years (Goldman Sachs).
To put that in perspective, those two industries alone are predicted to account for nearly 74% of the commercial opportunities over that same time span.
That brings us to our first lesson.
Lesson 1: Drones to Solve Problems Industries Already Pay For
As someone who is absolutely excited about the possibilities in the drone space, I needed to take a step back.
See, I have been thinking about how to use drones as a side-income for me. Something on the weekends, and maybe make an extra $500-$1,000 per month.
But I've been more focused on ME. And more importantly, how I can apply drones TO an industry.
Really though, it should be how drones can substitute tasks that industries already pay for.
Drones are just like any other new technology that disrupts industries. They are tools to reduce costs companies already have.
Software is the best example of this: everything from email (snail mail) to payroll (pad, paper, and countless hours) have been made more accessible and cheaper for companies.
Drones are just like that.
So instead of thinking up a "brand new way drones can be used", the approach should be how can drones be used to solve problems that already exist.
This type of thinking was was a huge shift for me during the conference.
Which leads us to the second lesson I learned.
Lesson 2: Pick and Industry and Become an Expert
We had a group of about 25 people in our "deep dive" discussing service providers.
Essentially it was a group who are enthusiastic about drones and the technology, but have no real idea where we can apply it and make money.
Understanding the problems of an industry can be very complex. Knowing what deliverables a drone can provide that saves a company a 5x return on cost is also difficult.
For an industry outsider.
That's where the advice from the Drone Deploy CEO comes in: start with what you know.
There's a reason most new drone operators decide to do real estate videos and photos: it's simple to understand.
From the surface, the problem (showcasing the area and uniqueness of a property) and the deliverables (short video and photos) are as straight forward as they get. Additionally, who you need to talk to (real estate agents) makes sense.
That's not the case with these other big industries.
Do you know who would be responsible on a construction site for approving drone operations? What is a drone service deliverable for a construction site anyway?
That's why almost everyone flocks to real estate. Understanding.
The advice to start with what you know makes a lot of sense for me: I was a project engineer designing photovoltaic systems for residential properties in Hawaii for over 1.5 years.
I have a good idea of how drones can be applied (surveying, thermal inspections), but more importantly I have an understanding of the industry. And connections to talk with companies to learn more about the problems they face.
Think about your background. Think about your network. What knowledge do you already possess? Who do you know that you can ask about their industry?
Next Steps
So what should you do next?
Brainstorm industries you already know
Run through your network and begin asking questions about the biggest problems they face in their industries, and how drones could be used.
Reach out to companies in your local area (construction, agriculture, survey, and inspection) to being asking these questions of industry professionals.
In conclusion, we are at the forefront of the coming tidal wave of drone technology, and it's important to find your niche.
Countless other people have the same question you have ("what industries should I choose to offer drone services").
And we're all trying to figure it out!
Hey there...and welcome to the DroneTribe.
We're just getting started with everything that's being rolled out - blog posts, guides, videos, and more.
There's lots of good on the horizon 🙂
In the meantime, we suggest you follow us on Facebook (this is the best way to keep in the loop of our new articles, guides, and products).
See you soon,
Dustin