"Of course we can do the operation...we just can't do it for 3 months," I said to the client.
He looked at me bewildered.
I continued, "This is Class D airspace. To legally perform this operation, I need to apply for an airspace authorization. It can take up to 90 days for the FAA to approve requests like this."
I'll get started on it right away."
This was a real conversation I had with a client several months ago to perform aerial photography over a sandbar on the island of Oahu.
This article will go over the step-by-step process I went thru to get my Class D Airspace Authorization for operations on May 1, 2017.
Introduction to Airspace Authorizations
An airspace authorization is required for permission to fly within controlled airspace (Class B, Class C, Class D, and surface level Class E). Airspace authorization is only available to Part 107 certified pilots.
If you're not certified yet, check out the Remote Pilot Test Bank for a full study plan and 300+ practice questions.
In the past (before Part 107 Rules were implemented), an operator just needed to contact the air traffic controller prior to flights.
However with the implementation of Part 107, all requests for permission in controlled airspace is required to be completed thru the FAA's Online Portal.
The FAA asks for 90 days from application date to proposed operation date, to review the request and apply any conditions or criteria.
Airspace Authorization vs. Waiver
When applying for operation in controlled airspace (107.41 Operation in certain airspace), you'll notice there are two types:
Airspace Authorization
Waiver
Waivers are requests to fly outside the standard operating rules that Part 107 dictates. Typically this is for things like operations at night, operations over people, and beyond visual line of site (BVLOS).
A waiver for "107.41 Operation in certain airspace" is a request to be exempted from needing permission to fly in controlled airspace. These requests are getting approved very rarely.
In this case, the desired operation has a defined date (May 1, 2017) within Class D airspace, so I applied for an Airspace Authorization.
Tools Required
Step 1: Plan Your Operation
This is the most important step.
Ask yourself these questions:
What are the coordinates of this operation?
How far from this coordinate might the operation be performed?
What is the max elevation required for this operation?
Be conservative with your estimates, but identify the minimum values needed for this operation.
To find the coordinates of this operation, pull up Google Maps Satellite view.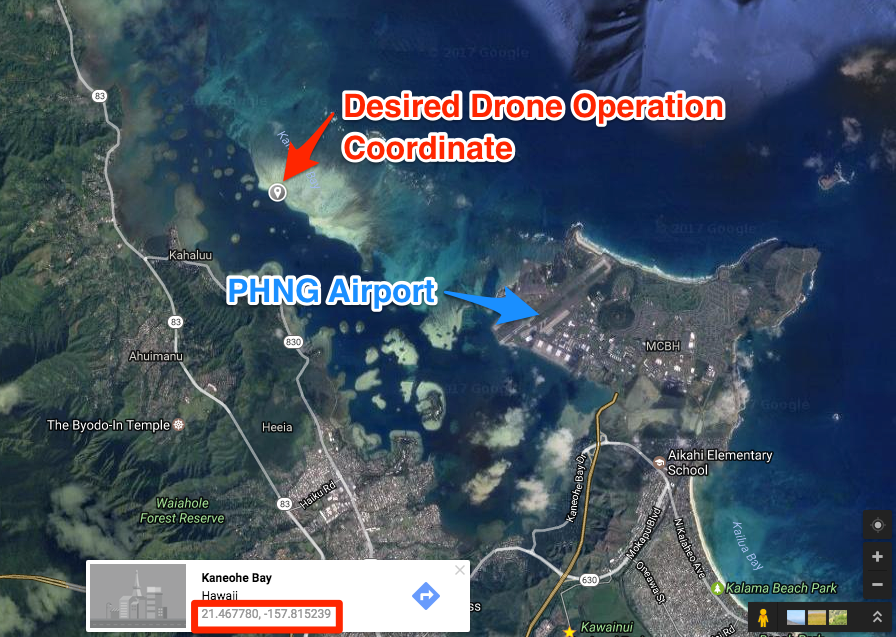 Now convert these decimal coordinates to degrees minutes and seconds. The easiest way to do that is with this website.
21.467780 degrees latitude = 21° 28' 4.008" N latitude
-157.815239 degrees longitude = 157° 48' 54.8598" W longitude
Now, using these decimal coordinates, scroll around in SkyVector moving the center of the map "+" until you align the GPS coordinates from your desired operation (N21° 28' 4" W157° 48' 54")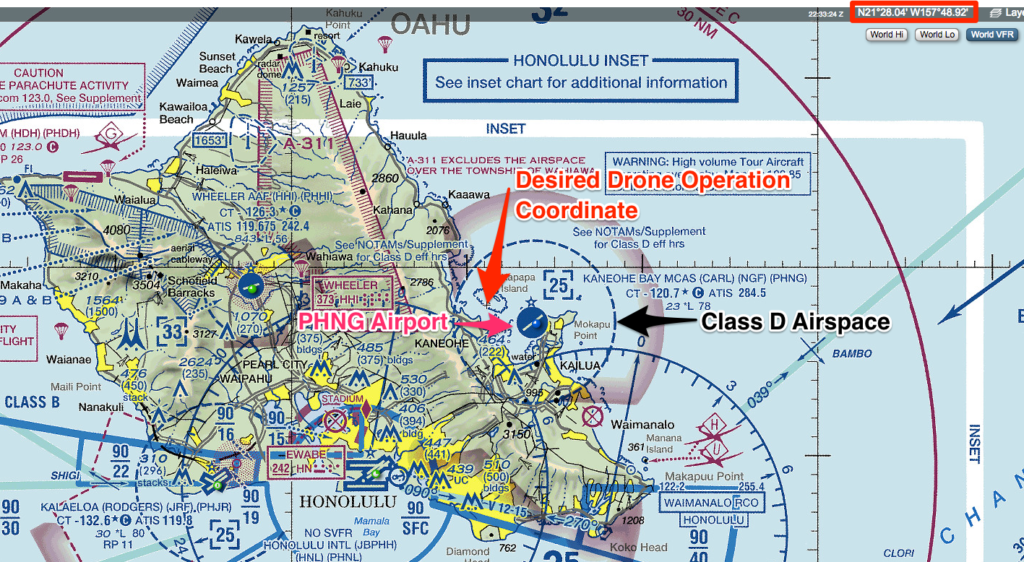 We see here that it is within Class D airspace.
Please note: By checking the Chart Supplement, we can find the effective hours for this Class D airspace.
In this case, on the desired operational day (Monday May 1, 2017), the airspace is Class D.
Step 2: Fill Out the FAA Airspace Authorization Request Form
There are detailed instructions from the FAA on how to fill out a waiver/airspace authorization request.
To fill out your airspace authorization request, start at the online form on the FAA website.
Below is a screenshot of my exact request for Class D airspace:
Step 3: Wait
Unfortunately, everything is reviewed manually by the FAA. Prior to April 2017, most operators submitting for waivers/airspace authorizations did not even receive confirmation that their request was submitted.
This has changed as of April 2017, where the FAA is including reference codes when each submittal occurs.
I submitted this Class D Airspace Authorization on January 28, 2017, and received notice on March 31, 2017.
Note how I requested a date of operation (May 1, 2017) over 90 days in advance. It is essential right now to give the proper notification to the FAA for them to approve it.
Step 4: Receive Airspace Authorization
I received my authorization in a PDF via email on March 31, 2017.
It included details on about who to contact and how far in advance (24 hours, 30 minutes prior to flight, and immediately upon completion of sUAS flight operation).
There are also details for Emergency/Contingency Procedures, such as lost link or lost communication with the sUAS.
Take a look at my full airspace authorization approval PDF here.
Apply for your own Airspace Authorization!
I hope this walk-through was extremely helpful on how I successfully applied for and received airspace authorization for operation with a Class D airspace.
Please let me know if you have any questions or want to see other specific waiver/airspace authorization request walk-throughs.